3 Main Ways to Harness AI in Human Resource Management and Recruitment
Leading companies across various industries are using AI in human resource management to ensure skills matching, maximum satisfaction, and minimum attrition.
Effectively managing human resources requires knowing a large number of variables associated with human behavior, most of which are qualitative. The inability of HR staff to decode this data, usually due to the complexity and time required to understand it, leads to important metrics being monitored and generally to a failure of the HR strategy. This makes the recruiting and talent management process risky, and minimizing this risk is where artificial intelligence can play a major role. There are already notable organizations implementing AI-based recruitment and human resource management, like PepsiCo and L'Oreal, setting industry-wide precedents for other companies to follow.
APPLICATIONS OF AI IN HUMAN RESOURCES MANAGEMENT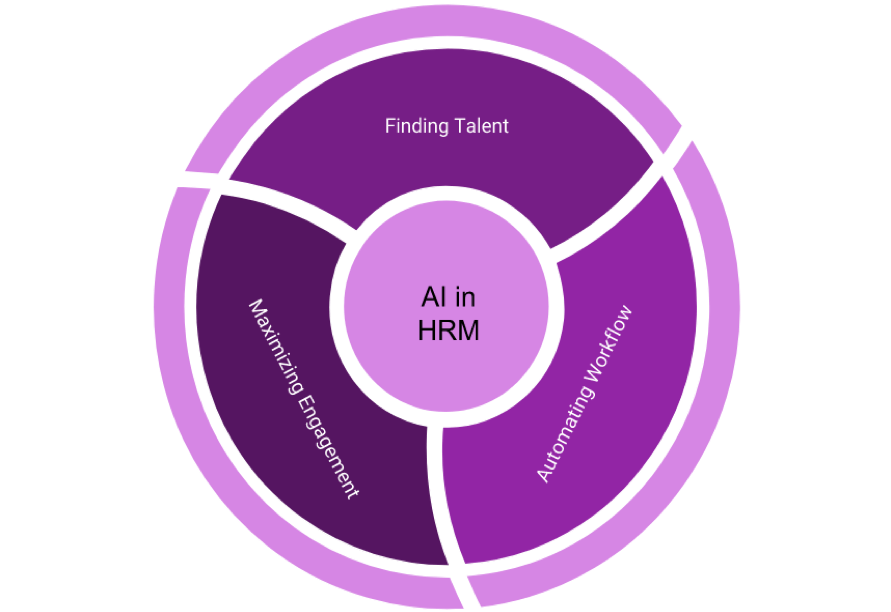 1. Find the right talent
Artificial intelligence-enabled recruiting tools are used to scour the internet and other sources of information to gather details about potential candidates for the desired job description. This minimizes the possibility of surveillance of promising candidates, which is possible when the research is conducted by humans. AI can also help shortlist candidates from a virtual pile of thousands of resumes, looking closely at criteria that meet organizational requirements.
AI algorithms can also be used to conduct and evaluate pre-hire tests to assess a candidate's technical skills and behavioral tendencies, and aggregate these results to obtain a predictive profile of the candidate's fit. at the post in question.
Attracting talent also involves ensuring that the recruitment process is as convenient for employers as it is for potential employees. This is done using automated chatbots to clear candidate queries and resolve minor issues. They may also be used to keep applicants informed of their recruitment status and provide automated responses to applications.
AI can also help create long-term HR strategies by analyzing supply and demand in the job market and within the organization to plan the recruitment and retention of the right kind of people.
2. Maximize employee engagement
Having a satisfied and engaged workforce is a key performance indicator of effective human resource management. AI can be used to track employee behaviors in the workplace and online, using text analytics and natural language processing (NLP) to assess their level of satisfaction and commitment to the organization. Employee virtual assistants, such as Personik, that help employees manage basic tasks and help communicate with the organization from anywhere ensure employee engagement and make staff management easier. These digital assistants help employees not only perform their job duties, but also provide personal benefits such as time off, vacation, and tax form requests.
Assessing performance in an unbiased manner is also possible using AI-powered human resource management tools. AI systems can be used to measure an employee's productivity and other KRAs to assess their entitlement to a reward by tracking the results achieved by the employee or teams.
3. Workflow Automation
AI can help employees perform their jobs more purposefully and efficiently by eliminating the need to perform minor, repetitive, and routine tasks. These tasks may include managing personal schedules, using text and email communications to schedule appointments and find addresses, and sending simple messages and requests to seniors and their peers. This ensures that employees stay focused on important non-routine activities that are more valuable to the business.
The analytical capabilities of AI can help solve simple problems, perform fundamental research, and provide relevant and useful information that helps employees perform their functional activities.
Human resource management based on artificial intelligence is becoming more and more pervasive in large companies, which need an analysis gathered from massive amounts of data relating to human behavior and learning. Organizations that want to have an engaged workforce, made up of not only competent but also compatible people, must leverage AI in human resource management initiatives.
Tagged:
resource management